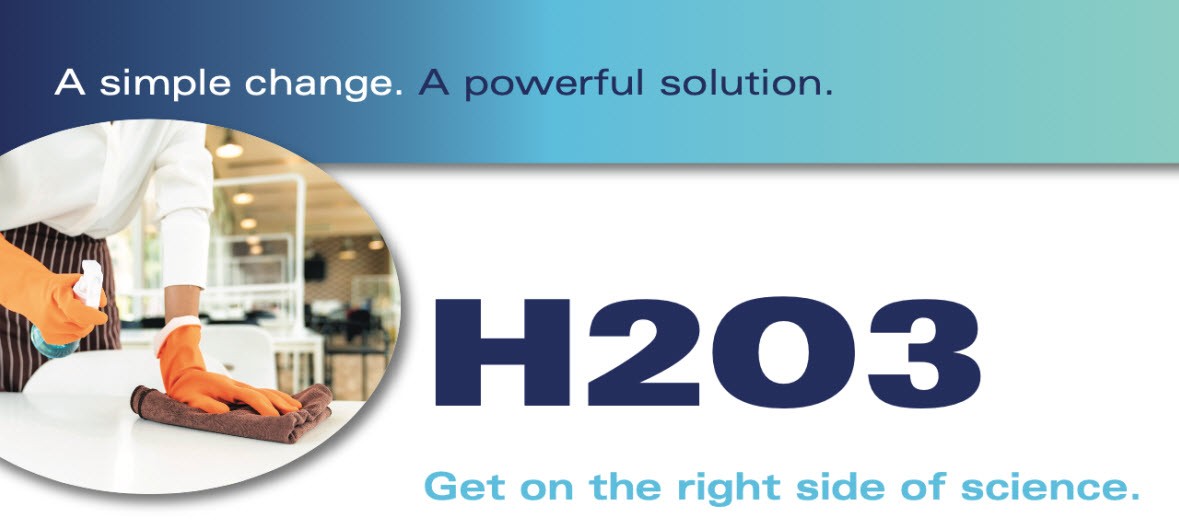 H2O3 - We're All About Solutions
How can my company reduce expenses, optimize my labor force, and not sacrifice my standards for keeping my employees safe, and my facilities clean? Business owners, operations and financial managers and facilities personnel ask this question every day.
H2O3 has your answer -
Stabilized Aqueous Ozone (SAO)
.
Stabilized aqueous ozone can simplify your operations by having a single, sustainable, cleaning and sanitizing solution, produced on-site and on-demand from tap water and electricity. SAO displaces virtually all the conventional chemical products that your business uses.
Saving time by replacing 5 or more cleaning products with 1 all-purpose product.

Ending costly delivery delays from an extended chemical product distribution channel.

Eliminiating the neeed to store and handle potentially toxic chemicals

Reducing employee sick time and risk from chemical exposure.

Saving money by producing a peerless cleaning and sanitizing solution for less than 50¢/gallon (avg) in year 1 (& less thereafter).
The time is now for a Simple Change, and a Powerful Solution.
There has never been a smarter time to make the switch from the conventional cleaners and disinfectants to SAO. H2O3 delivers SAO technology to clients looking for a safe, sustainable, onsite generated solution that is EPA, FDA and CDC recognized. In addition to providing a environmentally safe cleaner, SAO destroys viruses and bacteria—including SARS, MRSA, E. coli and Covid-19—on all topical surfaces…using your current tap water and electricity.
Powered by Tersano

Stabilized Aqueous Ozone (SAO)
SUSTAINABLE, EFFECTIVE, SAFE, CHEMICAL-FREE PLATFORM
Stabilized Aqueous Ozone is in use in many applications including sports clubs, residences, business offices, and hospitals to eradicate all pathogens including superbugs. SAO is 99.99% effective against pathogens (including virus strains like COVID-19), yet safe for humans, which makes it the obvious choice for high-risk locations. SAO has Safety Data Sheet (SDS) rating of 0-0-0-A and poses no harm to people, the environment or any surfaces.
Most chemicals are harmful not only to people but to surfaces as well. Conventional aqueous ozone generators, which have been employed for decades as POU (point of use) cleaning and sanitizing solutions, have an activation period of 20 minutes, which limits its range of applications. Stabilized Aqueous Ozone from Tersano is unique in that its activation period has been extended to as long as 24 hours…opening up a world of exciting possibilities for businesses like yours.
Health Clubs
Hospitality / Venues
Schools
Athletic Applications / Sports Teams
Food and Beverage Applictions
Professionally Managed Residential Properties
Professionally Managed
Offices
Warehouses (including in and out freight)
Retail Locations and Facilities
Automobile Dealerships & Repair Centers
Food Processing (Farm to Fork)
Athletic Equipment Companies
Training Facilities
Healthcare / Medical Offices
SAO for Take Home Programs
SAO Delivers - Cleaning & Sanitizing on:
Flooring: Carpet, Hardwood, Tile, Concrete, Turf
Bathrooms: Showers, Tubs, Toilets, Sinks
Kitchens: Work surfaces, utensils, cookware
Food products (meats, perishable food items)
Glass, Mirrors, Stainless Steel
Appliances
Replaces:
All purpose Cleaners
Stainless Steel Cleaners
Glass Cleaners
Deodorizers
Why Our Customers Choose H2O3?
H2O3 is a Stabilized Aqueous Ozone technology business focused on chemical-free alternatives for point of use (POU) cleaning and sanitization. Our products produce extremely safe and simple to use water-based ozone for maintaining a high level of hygiene throughout client facilities with minimum effort and without the need to store harsh chemicals.
Aqueous Ozone Technology (a water-based oxidant) is an environmentally safe solution requiring no change to existing cleaning procedures. H2O3 has partnered with Tersano to expand the application space for the Lotus Pro system and other ozone technologies in mobile and fixed location systems. H2O3 products displace conventional and increasingly ineffective chemicals.
Safe to use on any hard surfaces that are potentially contaminated

Fixed site dispenser with simple installation

You choose (spray bottle, bucket, etc.) for point of use applications

SAO is stable for 4-24 hours (depending on which cartridge is selected)

Tap water and electricity - no additives

Safe to use, in situ, no HAZMAT training or concerns
"We have been working with H2O3 on applications using the Tersano system in an assortment of areas in our club; primarily for sanitizing, stain cleaning, and odor control applications. SAO (Stabilized Aqueous Ozone) has proven to be very versatile in applications ranging from our indoor turf field, yoga and stretch mats, fabrics, furniture, and carpets as well as targeted applications in restrooms, locker rooms, and training areas.

The Tersano machine has proven to be a valuable piece of equipment in our stable of machines used here at the club and I am finding more areas for application for it on a regular basis. It's easy to use and user friendly."

Thomas Loger

Housekeeping Manager

East Bank Club - Chicago

""Wow - this is a game changer!

We are believers for sure.

H2O3 and Tersano SAO has helped keep our Distribution Center Covid-19 Free."




Heath Robertson CDC General Manager/Corporate Inventory Manager

Southern Pipe & Supply

"H203 is a fantastic authorized dealer for Tersano. The team takes the time to listen to the customers issues, and concerns, then they formulate a program to ensure the health and wellness of patrons using the facilities by taking a consultative approach and educating potential clients in the latest technologies. "




Greg Valenti

Director of North American Sales

Tersano

"As President of Belson Steel Center Scrap Inc. I want to take this opportunity tell everyone about Belson 's use of the Tersano dispenser. Belson, as a lot of companies at the start of the Covid pandemic was very concerned on how to keep all our employees safe. H203 introduced me to the benefits and idea of converting water into a sanitizing product. Belson's staff has been using this dispenser with great ease and satisfaction."

Marc Pozan

President

Belson Steel Center Scrap, Inc

"We have completely replaced all of our conventional chemicals with SAO, and find new ways to clean, sanitize and deodorize every day. Our staff and residents feel safe moving away from chemical products, and value the effective and environmentally friendly SAO platform"

Luisa Garcia

Property Manager First Service Residential

"During a time where keeping our cast and crew safe and healthy is our # 1 priority, the H203 SAO dispenser has given us the confidence to keep our TV production moving forward"

Scott Scornavacco

COO

Spiffy Entertainment LLC

"At Sophia we installed a Tersano Stabilized Aqueous Ozone (SAO) unit to wash our ready to eat salad ingredients and vegetables to inactivate viruses like coronavirus, e coli, salmonella, c-diff and other pathogens (like COVID). We also use SAO to fog the dining room, kitchen, on tables, doorknobs and other surfaces touched by guests and employees. Stop by and ask any member of our team and they will tell you why they feel more protected at Sophia. SAO keeps us safer!"

Glenn Keefer

Sophia Steak

Founding Partner

WWW.SOPHIASTEAK.COM

"The H2O3 system was a very simple installation and it checked all the boxes in terms of our passenger safety protocol. We can use it to sanitize the topical surfaces inside the aircraft between flights, and also apply SAO to our passengers' hands and footwear prior to boarding. We haven't had to purchase any other sanitizing chemicals since the installation."

Daryl Gilbert

Chief Pilot

Southern Pipe